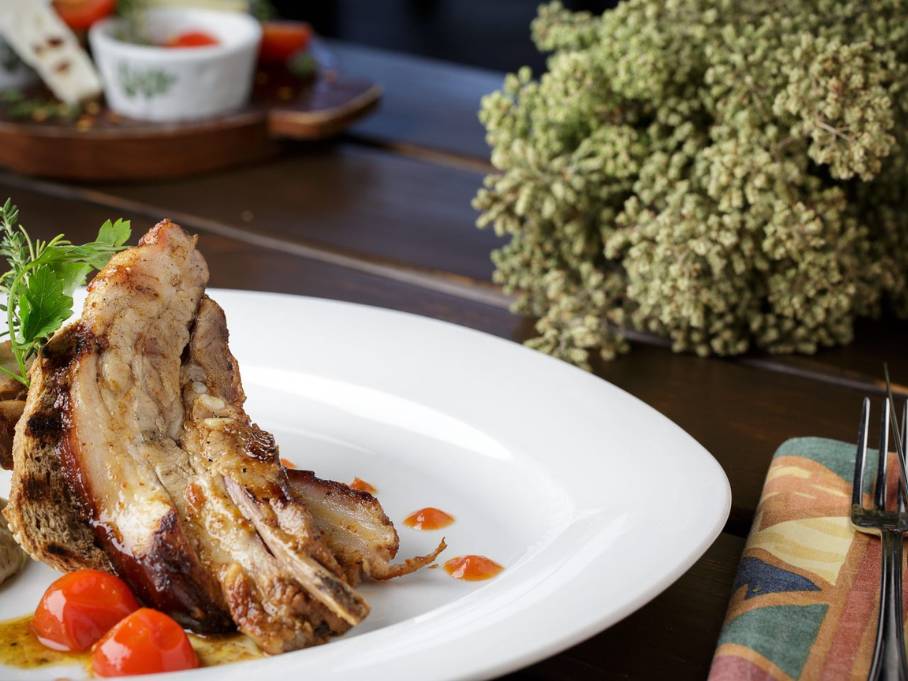 The brand-new Mademi restaurant in an idyllic location, overlooking the Aegean sea will become your 'meating point'! Embark upon tantalizing meat BBQ-Grill dinner experiences in this Cretan interpretation of a classic steakhouse, located in the furthest yet most romantic corner of the Creta Maris Resort. In a modern, industrial ambiance boasting a meat-aging room with butcher's block and glass windows, you will savor exclusively sourced Cretan meat complemented by recognized international cuts.
Whether you gather with the whole family or enjoy a romantic meal, the rich menu features prime Cretan beef cuts alongside pork, lamb, chicken, and classic steak house sides that will satisfy even the most discerning appetites. Complement your dinner with irresistibly decadent desserts like a three-layered devil's-food cake, bourbon pecan pie and, of course, a world-class cheesecake. The wine list features a focused selection of familiar and marquis wines, or you can select a signature cocktail made with fresh juices and homemade syrups.
Type of Cuisine
Cretan BBQ, a la carte
Location
By the sea
Dresscode
Smart evening wear (no beachware, sportswear, or flip flops)
Operating
Dinner: 18:30-21:30
6 days per week
Reservations
Reservations are required for dinner*
*Dinner reservations can be made only one day in advance or on the same day through the Creta Maris app or at the restaurant hostess' desk. Room number is required for booking.
Mademi Restaurant is part of the resort inclusive service and operations.