Bold Vision
Profound Legacy
When Nikos and Loula Metaxa dreamed up Creta Maris in 1975, it was a daring idea. There were almost no hotels on the Greek island of Crete, let alone a five-star resort. Nikos and Loula imagined a seaside village where travellers could experience the very best of this vast and varied island, from the comfort and privacy of a beautifully appointed resort. A civil engineer with a passion for antiquity, Nikos had the grit and talent to build his dream. His wife Loula, a collector of traditional textiles and gifted gardener, invested every detail with warmth, soul, and local colour. Still a family business, Creta Maris has expanded and evolved over the years, while remaining true to its founders' vision: to offer heartfelt hospitality, consistently delivering the highest quality and variety of services, while respecting the local environment, community, and culture.
A genuine welcome, fine-tuned over decades. A glorious heritage, thousands of years in the making. Natural beauty, safeguarded for eternity. This is what Creta Maris stands for.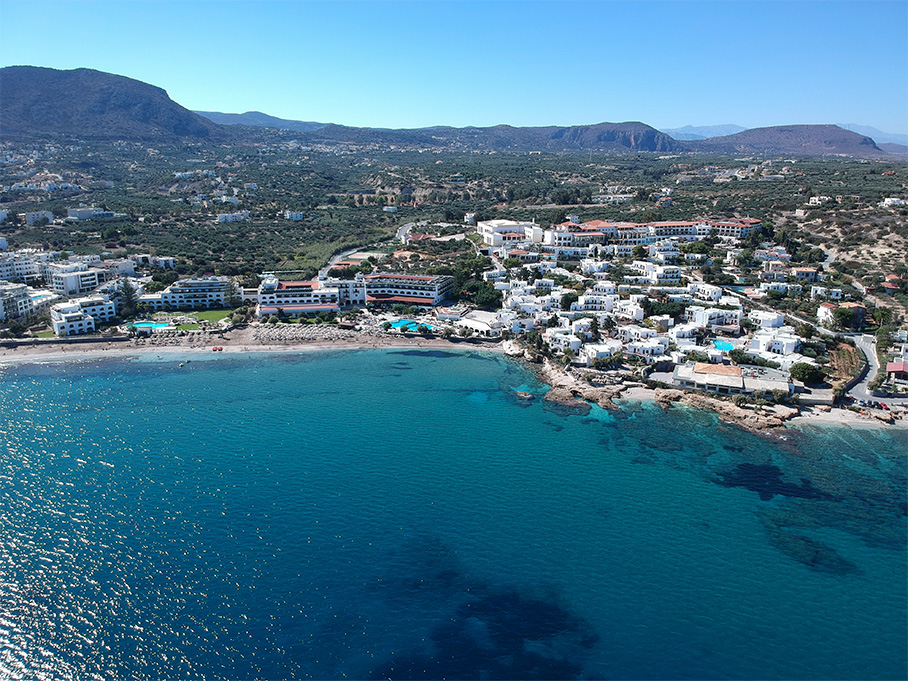 An Island for all time
Ancient history, timeless landscapes, deep-rooted traditions — Crete is an island of myths and legends whose memories and emotions reverberate for eternity. Creta Maris is no different. From pressing grapes with your bare feet to shearing sheep with local farmers, guests are immersed in the true essence of Crete.
Culture and History
Built on the site of an ancient settlement, antiquity and culture are the foundation stones of Creta Maris. Minoan civilisation, folk art, and contemporary Greek culture are on display at every turn—carefully restored ruins by the pool, traditional, hand-woven rugs in the lobby, room numbers inspired by the owner's collection of ancient stone seals, and exhibitions from the Metaxas family's private collection of priceless artefacts at local museums. Past and present thread through the resort, a seamless chronicle of beauty and harmony.
A celebration of Togetherness
Cretan hospitality is about bringing people together — whether it's around a firepit for spit-roast lamb, in the candlelit solace of a Byzantine chapel, or under the shade of a giant ficus tree. Everyone is welcome, family is everything. This generosity of spirit is simply a given. Taking care of others comes as naturally to us as jumping into the sea on a summer's day.
It takes a village
We make memories, but people make places. We treat our loyal staff and trusted partners with the same care and respect as our guests, nurturing relationships that last a lifetime. We invest as much in our staff as they invest in our guests, a partnership that allows us to grow and evolve together. Every journey is personal. But it's the connections we make along the way that stay with us.
A way of life, not a lifestyle
As Cretans, living in harmony with nature is in our genes. Our tomatoes don't just come from a 10km radius; they come from our friend, Lefteris. We educate all our suppliers on the importance of sustainability and give them the tools to improve their eco-credentials. We hope your stay inspires you to embrace the spirit of Creta Maris in your everyday. A more considerate way of living. Looking after your wellbeing and taking care of our planet. Sharing priceless moments with the people who matter most. Understanding the true value of quality of life.
HERITAGE & TRADITION
With a distinguished heritage spanning five decades, history and culture are woven into the fabric of Creta Maris. Guests are immersed in the local lifestyle — from traditional Greek cuisine to enriching activities that engage with Cretan art, crafts, and nature.
SUSTAINABILITY
At Creta Maris, we consider ourselves nature's guests: it is our duty to protect invaluable natural resources by investing in regenerative initiatives. Being sustainable also means giving back to the community — employing local staff, sourcing local products, and supporting local artisans.
HEART & SOUL
Hospitality is a code of honor in Crete. Our family business is no different. Our staff is a close-knit community that shares our values and ideals. Everything we do comes from the heart — from an instinctive desire to share our deep love of our island. Guests are so warmly welcomed that they feel part of our extended family.
INTEGRITY & AUTHENTICITY
Designed to look and feel like a Cretan village, our resort is honest, relaxed, and unpretentious. We hold ourselves to the highest standards and take pride in surpassing expectations. All our relationships are based on trust and transparency. That's why so many staff stay with us for decades and so many guests return, again and again.
INCLUSIVITY & VIBRANCY
With a fantastic range of activities, facilities, and experiences, Creta Maris is inclusive in every sense of the word. A celebration of diversity, variety, and togetherness, where everyone feels at home. A safe enclave where guests can be as active, social, or laid-back as they like.