The true definition
of Cretan Hospitality
The first five-star sustainable resort on Crete, Creta Maris has spent years fine-tuning the hospitality experience for you. Voted Greece's leading all-inclusive resort at the World Travel Awards yearly since 2020, Creta Maris has garnered countless accolades and awards over the years. While we're humbled by our industry's recognition, nothing makes us prouder than what our retuning guests have to say.
Creta Maris is synonymous with five-star holidays on Crete. Family-owned and locally staffed, Creta Maris is a celebration of this vast and magnificent island's architecture, cuisine, culture, and nature. An all-inclusive beach resort offering an unlimited variety of exceptional facilities, enriching activities, and extraordinary experiences for couples, families, exclusive holiday seekers, and celebration travelers, delivered with intuitive Cretan generosity and sincerity. All rooted in a regenerative travel philosophy, thoughtfully designed for travellers who value sustainability without compromising high-end quality.
Experience Crete
like a true local…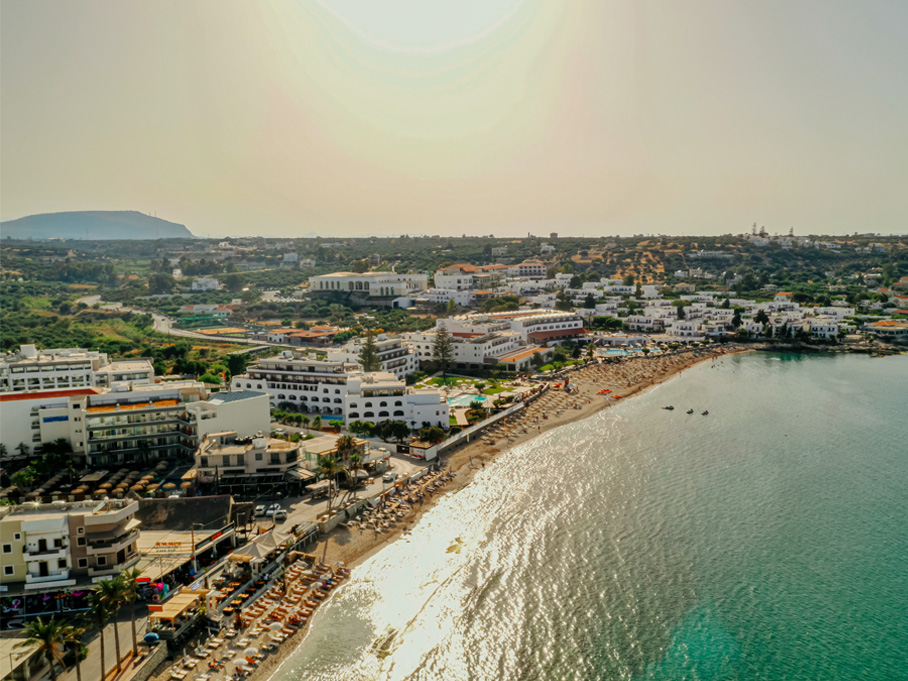 REST
679 Rooms & Suites
1 Pool Villa
TASTE
7 restaurants
5 snack points
10 bars
WATER EXPERIENCES
1 Blue-flag awarded sandy beach
7 outdoor pools & 3 heated outdoor pools
1 indoor heated pool
1 Outdoor Jacuzzi
5 children's swimming pools
Creta Maris Waterpark
ENTERTAINMENT
Open-Air Cinema "Cine Creta Maris"
1 Evening Entertainment Open-Air Theater
Arcade Games
OUTDOOR SPORTS
Tennis Court
Table tennis
A Mini Soccer Court (5x5)
Mini Golf
Basketball (3x3)
Boccia
GREEN HOLIDAYS
Organic Field Garden
Vineyard
FAMILY
Baby Room with toys (up to 5 years, mid June – mid September)
Asterias Children's Club (4 to 11 years)
Teenagers' Club (12 to 15 years from July to August)
REJUVENATE
Fitness Center
Hammam Spa
SHOPPING
Boutique
Jewlery shop
Convenience Shop
MEETING FACILITIES
Convention Centre "Mikis Theodorakis" hosting up to 5000 delegates
Various areas for outdoor and indoor activities
Private Church of Holy Trinity
Parking Area
Helipad
Internet Corner Areas
Various Services
High-Speed Wi-Fi
24h Reception
Guest service
Welcome and honeymoon gifts
Laundry and Dry-Cleaning Services (With extra charge)
Babysitting upon request & availability (With extra charge)
Car rental and Helicopter Services (With extra charge)
Private Dining (With extra charge)
Tennis Lessons upon request (With extra charge)
18-hole Golf Course Golf, at 7 Km (With extra charge)
REST
With 680 well-proportioned rooms and suites, spread across two main buildings and a village-style area of whitewashed bungalows, you will find your own home in paradise at Creta Maris. Each room—from deluxe pool front suites to connecting family rooms—has a private terrace or balcony. Choose from a view over the serene gardens and Cretan mountains, the refreshing resorts' pools, or the sparkling Aegean Sea.
TASTE
Seven outstanding restaurants, from a seaside tavern restaurants to alfresco tables around a Byzantine chapel, will take you on a culinary journey through Crete island and the Mediterranean. Private seaside dining under the starlight for those extra special moments. Thoughtfully crafted wine lists, with Greek and Cretan options. Five all-day snack points with an array of poolside refreshments. Ten bars to cheer unforgettable evenings, from poolside afternoon margaritas and sunset spritzes to late night chilled tsikoudia.
Our chefs create a seasonal array of classic dishes, all made with local, organic produce, sustainably farmed. We source 70% of our ingredients from our own organic gardens as well as handpicked local suppliers who meet our exacting environmental standards, through our program "Sustainable Supplies." Whether digging into a crunchy Greek salad at lunch or enjoying a spit-roasted lamb at dinner, we've made sure each meal will be a special one to remember
WATER EXPERIENCES
There's no Greek holiday without water. Dive head-first into summer at any one of our sixteen pools, or make a splash at our waterpark. Head to our blue flag sandy beach and swim in the tranquil azure waters of the Aegean sea. Explore a fleet of exhilarating beach toys, including pedalos, kayaks, canoes, SUPs, and flyboards, or towel off and recline in our sun loungers, as the sound of the waves lulls you to sleep.
ENTERTAINMENT
For moments made of laughter and fun, dance the night away to Greek classics under the moonlight. Cuddle up with the whole family and watch Hollywood stars at Europe's largest open air cinema or belt out your favourite pop song during disco nights and karaoke. Create joyful memories that will always bring a smile to your face.
THE CRETAN WAY OF LIFE
Experience the intense joie de vivre of Cretan culture. Connect with the sustainable Cretan way of life through our unique "We do Local" program and participate in traditional rituals, from sheep shearing and wheat threshing to harvesting olives and sun-drying grapes. Expand your horizons learning Greek dancing, language, or cooking, using ingredients from our organic kitchen garden. Or simply stroll through the market, to pick up a local gift for home. Enriching activities that you will always cherish.
MOVE
A five-a-side football pitch, 3x3 basketball court, tennis courts, water polo, mini-golf, and boccia offer ample opportunities to stay active outdoors. Hit the beach for adrenaline-charged water sports.
REJUVENATE
Our fitness centre features daily exercise classes and on-site trainers, plus a heated indoor pool for aquarobics and invigorating laps. Recharge at our spa, a sensual sanctuary featuring a hammam, sauna, and hydrotherapy, as well as rejuvenating and restorative body and beauty treatments to be enjoyed alone, as a couple, or for the whole family.
FAMILIES
Wake up in adjoining family rooms, as the morning light filters through the window. No matter their age, your kids will have a blast at our five children's pools and top-of-the range water park. Dedicated recreation areas, such as Asterias Kids Club and Teenagers' Club, will provide your precious ones endless opportunities for fun in a safe and stimulating environment. Recount the day's adventures over a seaside lunch. Memories created under a glowing sun, to last a lifetime. As a family-run resort, we know the importance of coming together and reconnecting - and having a blast while doing so.
COUPLES
Reconnect and amp up the romance factor at our exclusive waterfront rooms and suites and direct access to the beach. Get away from it all and indulge in romantic sunset dinners, side-by-side massages, or a fruity poolside cocktail.