A Travel Paradise for Every Guest
Located in the northeast of the island, Hersonissos is a seaside port town just 25 kilometers away from Heraklion and a beehive of activity all year around. Combining mountainous landscapes with pristine coastlines, the area has been a travel paradise for centuries. Nowadays, it is still visited for its cultural sites and natural treasures.
Choose amongst an infinite number of places to swim, all of them lapped by warm, crystal-clear waters, indulge in the local cuisine, join cultural activities ideal for everyone, visit historical areas, and enjoy invigorating strolls along beautiful fishing villages, promenades, restaurants, shops, and bars.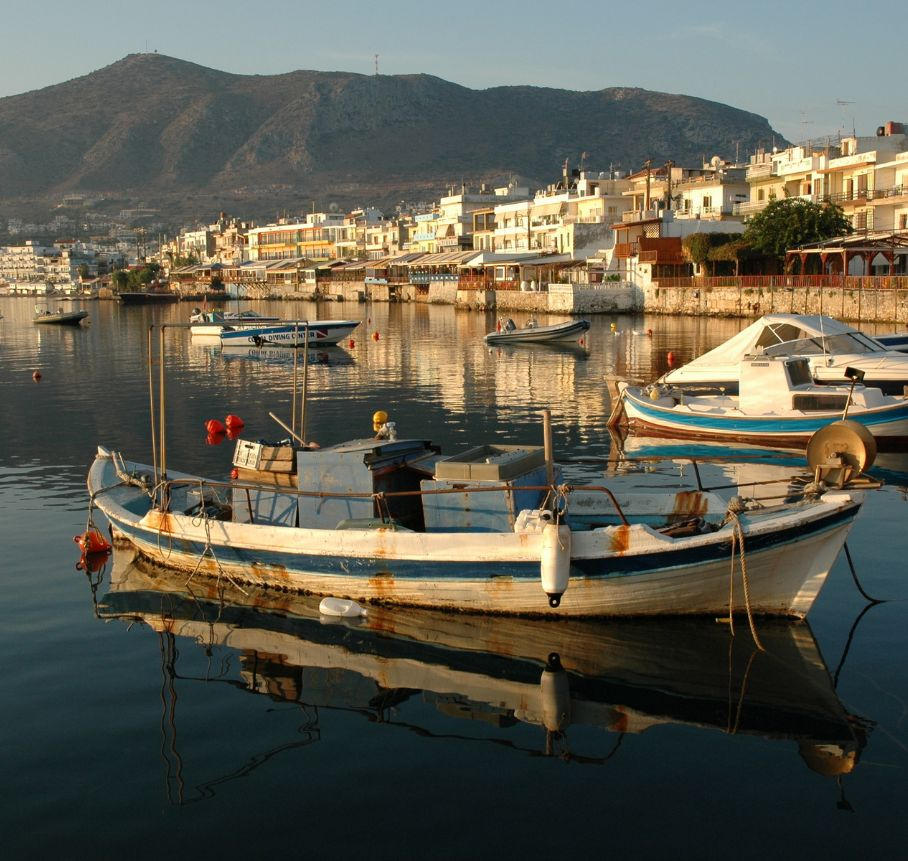 ACCESSIBILITY
Conveniently situated close to Heraklion, the island's capital, Hersonissos is a perfect base to explore the city and visit the surrounding areas and one of Greece's most accessible and friendly locations and can be reached:
The ride from the airport of Heraklion to Hersonissos takes about 25 minutes. Keep in mind that you can even book a direct charter flight from many European cities straight to Crete during the summer.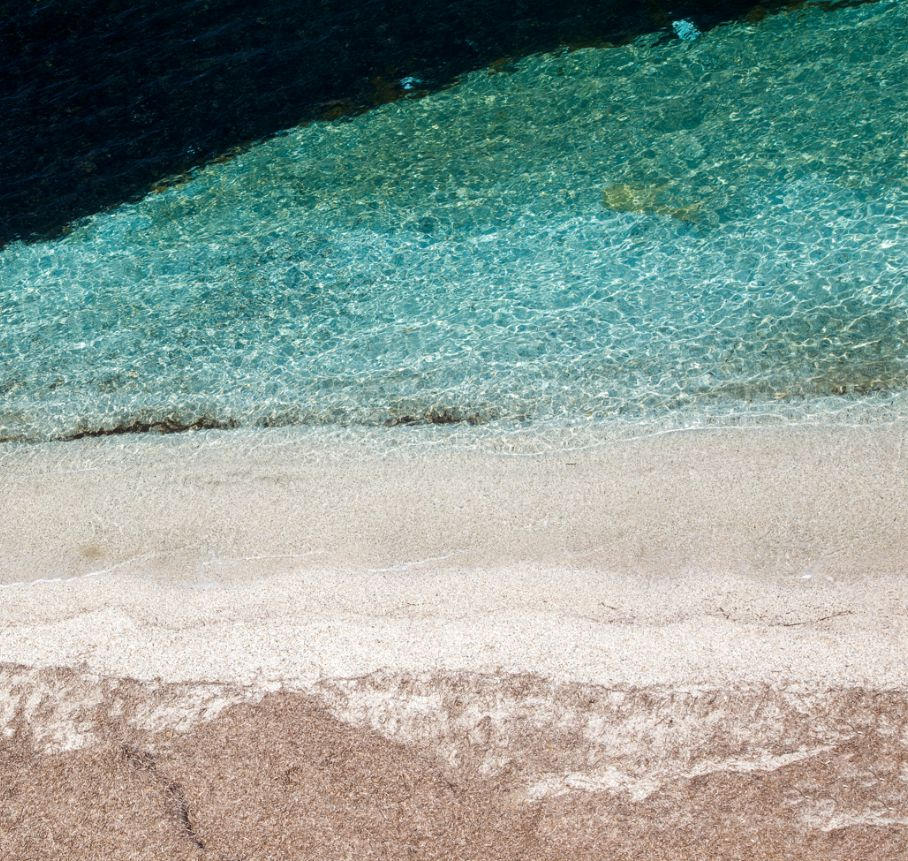 BEACHES
Hersonissos boasts sandy stretches of coastlines, crystal-clear waters, and natural landscapes for unforgettable days at the beach. Explore the Southeast coast of Hersonissos boasting a long, perfect stretch of beach, or the northern coastline, which is dotted with secluded little beaches and impressive coves. Make sure you bring along sun protectors, as the temperatures in the area tend to get high, and you might get burned even while casually walking around the city.
There are plenty of beaches worth visiting in and around Hersonissos. Enjoy the city's port beach or head to Cape Sarandaris, one of Hersonissos' nicest and most protected beaches, which also caters to those who love naturism. If you don't mind driving, Stalida and Malia beach should also be a must-see on your beach tour itinerary.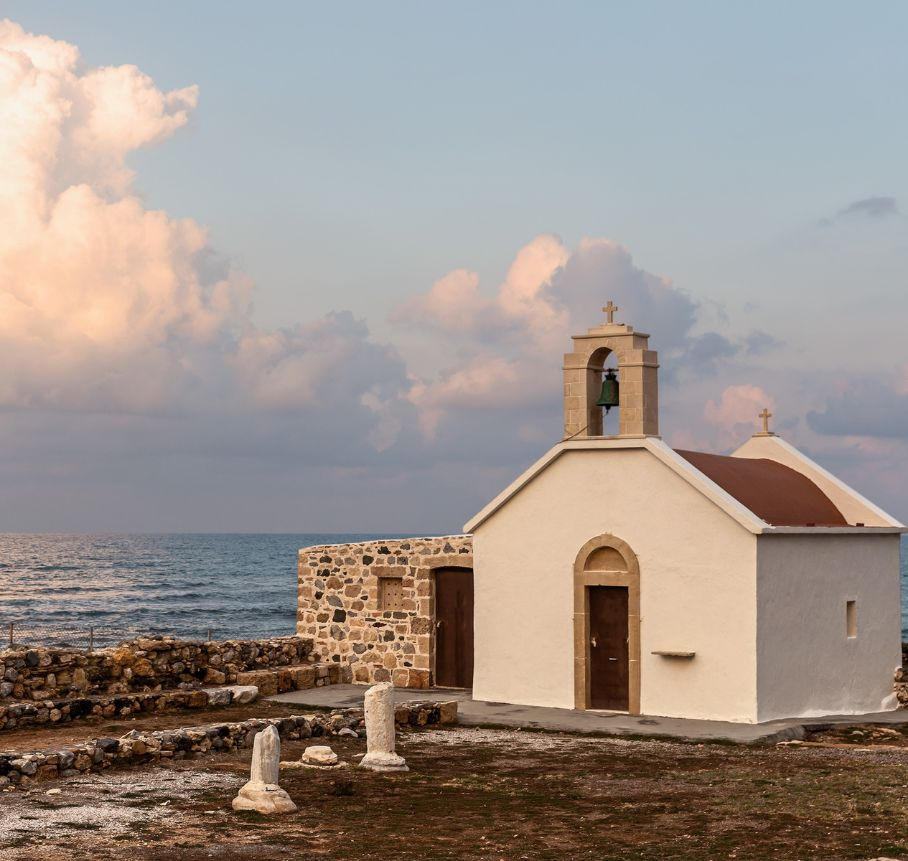 HISTORY
Explore the history of the scenic Cretan town of Hersonissos and follow its evolution through time. Built in the 16th century by members of the Venetian Republic as a place to vacation and entertain the upper class, the old town boasts a marvelous location overlooking sheer rock cliffs and offering panoramic views of the Mediterranean Sea. Finding its roots in the Minoan times, Hersonissos is an area of major historical significance, attracting locals and tourists from all over the globe.
Explore the port turned into a small fishing village in the late 1950s when people developed an ever-increasing interest in its tourist hosting capabilities. Nowadays, the city offers a myriad of sights, sounds, and tastes to explore – from Venetian-style stone houses and tree-lined streets to street performers and festivals perfect for those who love to revel in the outdoors. The town is home to many ancient ruins dating back to the times of the Minoans and is dotted with churches, shops, and restaurants offering plenty of opportunities for daily excursions.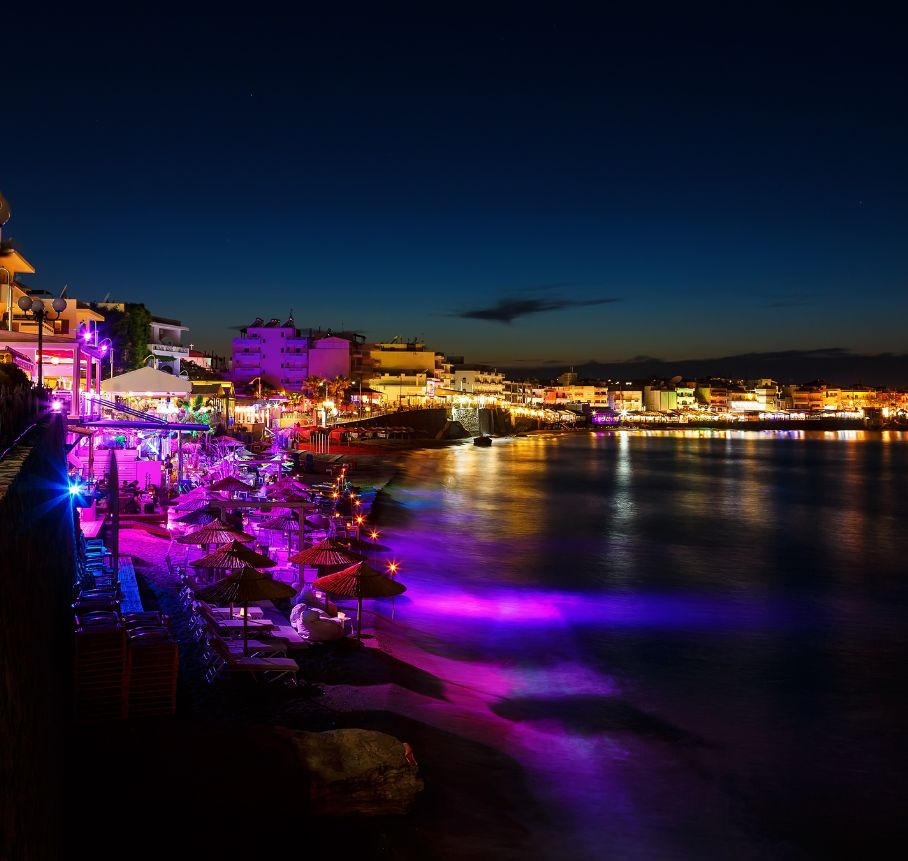 HERSONISSOS EXPERIENCES
Hersonissos offers many opportunities for sightseeing, culinary journeys, entertainment, shopping, and even wellness activities. Whether you are traveling with your family, friends, or significant other, there are several unique experiences to indulge in.
Stroll in the city port
Pay a visit to the city's museums
Dive into history with daily excursions
Immerse yourself in revitalizing outdoor activities
Join a wide variety of enjoyable outdoor activities in Hersonissos, including hiking, cycling, fishing, long beach walks, and even dolphin-watching. Explore the Aegean seabed and be mesmerized by its diverse beauty. If you prefer water sports, there are plenty of options. Boat rentals are abundant for couples, family getaways, or big groups. Explore nature further by hiking up the mountains to admire the panorama, or pump up your adrenaline even more by renting a mountain bike and riding through challenging trails.
Taste the authentic Cretan cuisine
Experience the Cretan cuisine in authentic, vibrant restaurants and taverns offering a variety of traditional dishes made with pure ingredients such as meat, fresh seafood, vegetables, and local delicacies. Indulge in time-honored traditional dishes unique to the area, including "Chochlioi boubouristi" (friend snails), "Lamb with stamnagathi" (wild chicory), "Askordoulakous" (wild onion bulbs), "Ntakos" (rusk bread, tomatoes, myzíthra cheese, olive oil), "Sfakianes pites" (flatbread pies with feta cheese & honey), and "Dolmades" (stuffed grape leaves with rice and fresh herbs).