At Creta Maris, we follow the principles of the European Green Agreement, and we aim, through the EU "From farm to fork" strategy, to contribute in a positive way to the actions for the climate change and environmental degradation, as well as to a sustainable, healthy and environmentally friendly food system.
Our sustainable choices include the optimal management of natural resources — water, energy, food raw materials —, the promotion of soil health as well as the management of organic waste through four different application fields: vegetable gardens, herbs, edible nuts and grasses.
We seek to connect sustainable food production with gastronomy, offering healthy food options to our guests.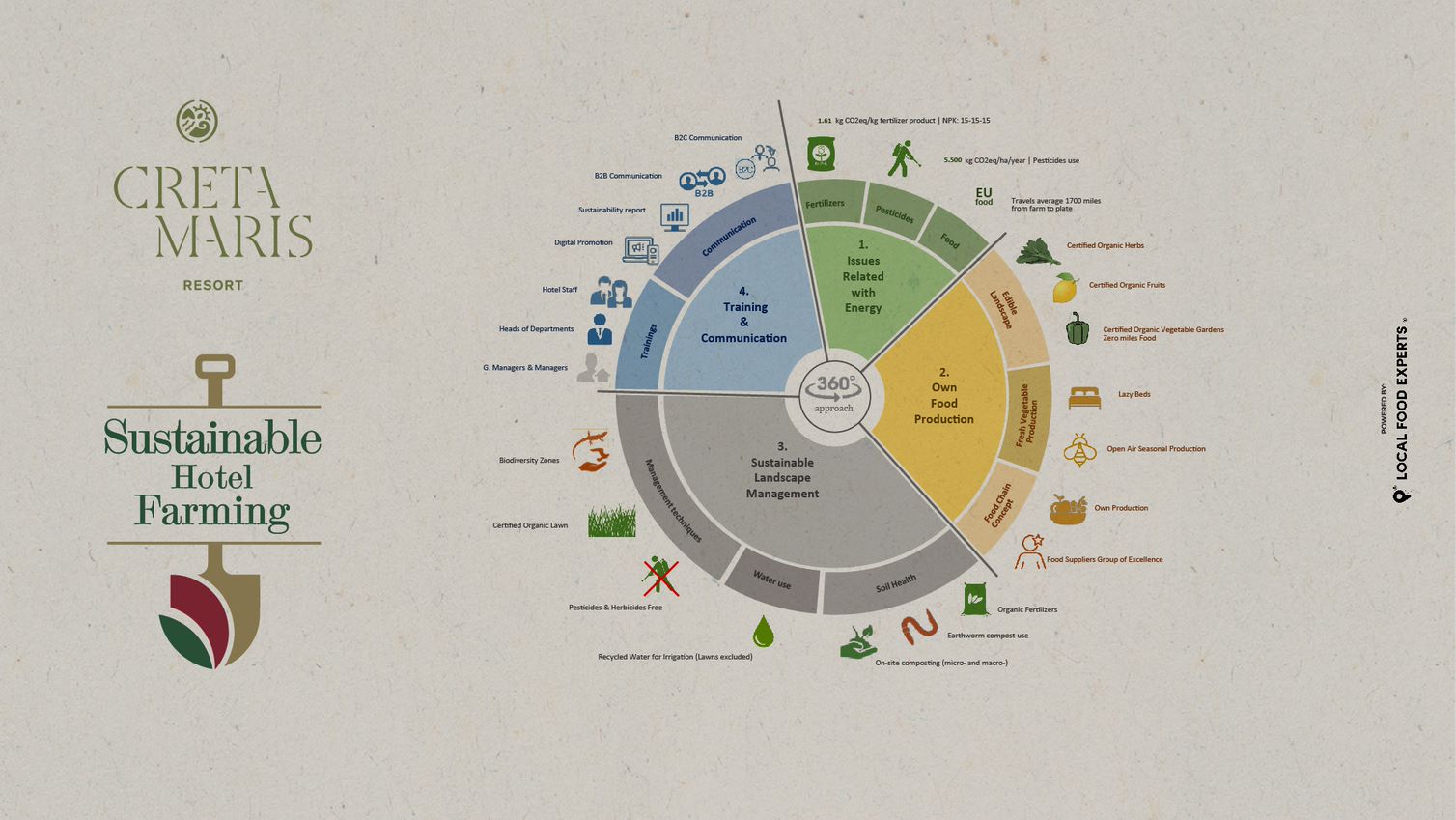 We have implemented a 360º approach incorporating 4 pillars
Issues Related to Energy
Our Own Food Production
In the gardens of our hotels, we cultivate using certified sustainable practices:
organic herbs
organic fruits & nuts
organic vegetable gardens
Our policy is to apply certified, innovative and sustainable methods of food production and cultivation, utilizing local practices and knowledge that have their roots thousands of years ago.
Lazy Beds: A form of cultivation used by the Minoans (and the Incas — although they had not culturally "met"). This form increases productivity in units of time and land, ultimately leading to an increase in food production and a subsequent increase in population and culture.
Open Air Seasonal Production:

We choose indigenous plant varieties, thus reducing the need for continuous care and energy consumption as the endemic species adapt to the local climate and geology.
We cultivate based on seasonality. This way, we do not have to "push" or "reinforce" nature to produce something other than the natural
We apply combined cropping in varieties among which we have identified auspicious coexistence, thus saving space, water, nutrients, and fertilizer.
WE OFFER WHAT WE PRODUCE TO OUR GUESTS
We directly connect the cultivation of our gardens to our hotels' restaurants and bars. In combination with the "Sustainable Supplies" initiative, we associate the production of raw materials with quality and responsible consumption and gastronomy.
Τhe annual crops that are decided, arise after consultation of the chefs' team, the greenkeeping team and the Local Food Experts agronomists team.
Sustainable Landscape Management
The "man-made landscape", namely the intervention of man to plant something where it did not exist, is based on the following actions:
We take care of soil health
We reduce water use
We do not use synthetic pesticides or herbicides
We apply non-human intervention zones allowing nature to act on its own
Creta Maris organic garden has been certified for its organic cultivation by EU 2018/848. Moreover, it has received Organic agriculture certification and label from the European Union.
Training & Communication
Mindset transformation comes through small actions. At Creta Maris Resort, we want to contribute to the development of a new concept of hotel farming and its connection to the production and supply of food. It is our moral duty to inform and educate our existing and future guests as well as our partners and suppliers.
Certifications